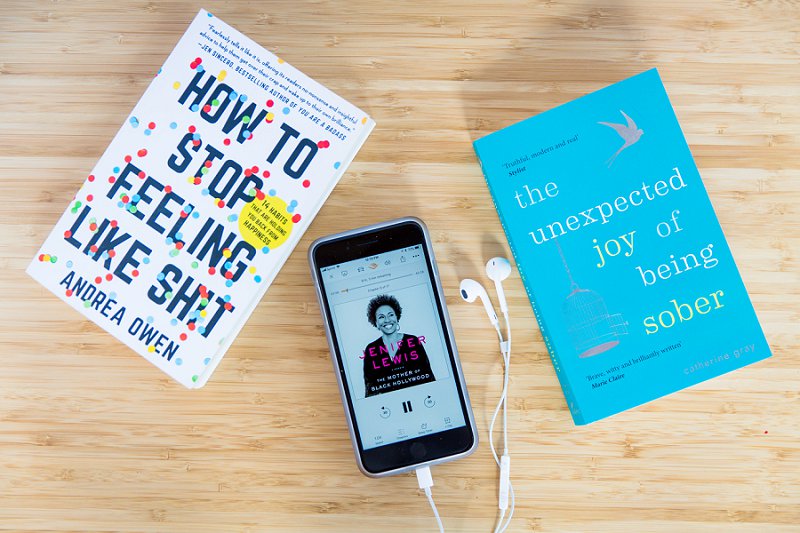 I kicked off this year with a few great, new books on my nightstand (and in my earbuds) that I wanted to share! Last year, one of my big goals was to read more often, and I was so happy to have kept it up all year. This year, I'm hoping to share a few of my favorites here on the blog, and do a few quick reviews over on social media (Instagram stories, maybe?) as well. Today I wanted to share about the three books I inhaled in January.
The first is called The Unexpected Joy of Being Sober and it was written by my friend Catherine Gray. Now, can I just tell you a little something about being in a community of women in recovery? One of the best parts of the entire experience is watching people you have seen crawl out from the bottom of despair change the world with their talent and grace. Getting to be a very small part of Catherine's journey is such a gift, and viewing her rise has been incredible! This memoir shares Catherine's struggle with alcohol, but even better is learning about the incredible life she found was waiting for her in sobriety. So many people believe being sober means you become a boring lump with no life, and that has been far from the truth for me! Catherine shows her readers what an exciting, fun, JOYFUL life is waiting for them in sobriety. She also weaves in some amazing science about alcohol (do you know it's not good for you AT ALL…despite what that report you saw on the benefits of wine on your heart heath says?) and gently builds the argument that being alcohol-free is not a punishment, but an awesome way to live! You can get The Unexpected Joy of Being Sober here.
The second book I read this month is by another online recovery friend (and podcast host) Andrea Owen. Andrea is an author and life coach who helps women live the kick ass lives they deserve. She works with a ton of high-achieving women to assist them in finding balance, joy and letting go of shitty behaviors. Hence the title of her newest book, How to Stop Feeling Like Shit! I was a guest on Andrea's podcast last year, and I love her style of not taking any crap while being incredibly empathetic and understanding. This book lays out several behaviors many women cling to (people pleasing, saying yes too often, saying no too often…) and helps the reader find ways to battle these issues in their own lives. This is a great read for women who are "doing it all," but still find themselves feeling shitty far too often (raises hand). You can get How to Stop Feeling Like Shit here.
The last book on my list for January was actually an audiobook, and OMG GET THIS AUDIOBOOK! I have been a fan of Jenifer Lewis for years, but listening to her tell the story of her own life in her book, The Mother of Black Hollywood, was a total joy. She shares intimate details of her life growing up as an abused child in Missouri, her early days on Broadway in the 1970s and 1980s, the AIDS crisis that rocked her world, her battle with bipolar and anxiety and her time as a black actress in Hollywood. I'm sure this is a great read on it's own, but hearing Ms. Lewis' incredible voice telling her own story was well worth the audiobook. She sings, tells jokes, laughs…the whole time I felt like I was listening to her in person. I highly recommend this for a long drive in the car or to listen to when you're working out…just beware if you're at the gym you'll probably end up snort-laughing on the elliptical. You can buy the audiobook for The Mother of Black Hollywood here or the print version here. And if you want a Jenifer Lewis fix, may I suggest adding Black-ish to your TV rotation. She plays Grandma Ruby and it is the BEST!
http://www.crazybananas.com/wp-content/uploads/2018/01/2018-01-31_0001.jpg
533
800
Megan
http://www.crazybananas.com/wp-content/uploads/2015/07/Crazy_Banans_Logo_WebsiteBanner.png
Megan
2018-02-06 15:12:12
2018-02-06 15:12:12
Currently Reading : Unexpected Joy, Not Feeling Like Shit and the Mother of Black Hollywood