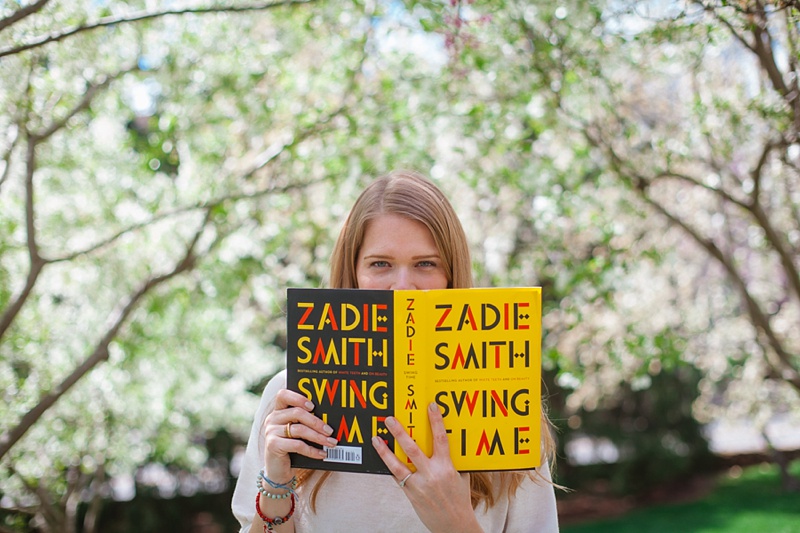 This year I'm doing my best to turn off the screen and bury myself in pages as often as possible. I spend so much of my time in front of a computer or a phone screen, and lately sleep has become an issue for me (again, ugh), so reading has become the antidote. I'm attempting to read two or three books a month, and maintaining a mix of fiction and non-fiction.
This past month I read the novel Swing Time by Zadie Smith and the memoir When Breath Becomes Air by Paul Kalanithi. Swing Time is the story of two young mixed-race girls who live in a low income project in London. The story is told from the perspective of one of the girls, who remains unnamed throughout the story. It follows them as they grow from young girls in dance class to adult women living very different lives. The story explores race, class, pop-culture, advocacy and "hero" culture and so much more. It's such a rich, wonderful read.
When Breath Becomes Air was written by 36-year-old neurosurgeon Paul Kalanithi, after he was diagnosed with stage IV lung cancer. As he transforms from a doctor into a patient, he shares his deepest thoughts about life, death, love and fatherhood. I found myself in tears for much of this short, beautiful book, as it hit very close to home for me. While the loss of Mr. Kalanithi is a tragedy, the words he left behind were extremely comforting to me, and I'm so grateful to him and his family for sharing them with the world.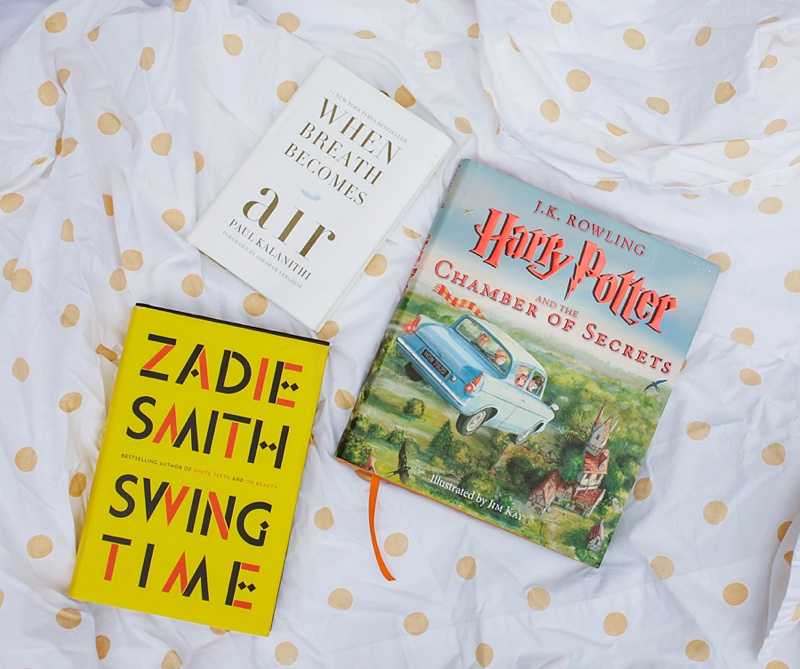 In addition, my 6-year-old and I have been reading the new, illustrated versions of the Harry Potter books before bed each night. We just finished Harry Potter and the Chamber of Secrets, and we found the illustrated editions to be such a treat! He loves listening to the Harry Potter stories (his sister is obsessed and talks about them all the time, so he likes being in on the fun), but they are quite long, so the addition of the fantastic illustrations by Jim Kay help him enjoy the story and kept his interest throughout the entire book. It took us about a month to read it, but the next one doesn't come out for a year, so we took our time!
I'm always looking for new book ideas, so if you've read something amazing lately, send me a note at megan@crazybananas.com or on Instagram and let me know!
CB Reads : 2017
1. Chasing Slow by Erin Loechner
2. Millers Valley by Anna Quindlan
3. Lilac Girls by Martha Hall Kelly
4. Attachments by Rainbow Rowell
5. When Breath Becomes Air by Paul Kalanithi
6. Swing Time by Zadie Smith
7. The Girl Who Drank the Moon by Kelly Barnhill
8. I'm Judging You: The Do-Better Manual by Luvvie Ajayi
Up next…Sober Stick Figure and The Hate U Give
http://www.crazybananas.com/wp-content/uploads/2017/04/2017-04-25_0001.jpg
533
800
Megan
http://www.crazybananas.com/wp-content/uploads/2015/07/Crazy_Banans_Logo_WebsiteBanner.png
Megan
2017-04-25 17:07:07
2017-04-25 17:07:07
CB Reads : Swing Time & When Breath Becomes Air