This is the final piece of my series on 2018 intentions…go here to see part one on social media and part two on friendship.
As 2017 came to a close a couple of weeks ago, I decided to re-evaluate several areas of my life, and one that stuck out was my consumerism in the past year. At my core, I'm not a big shopper. I can't stand buying clothes and I have a lot of anxiety about spending money, especially on myself. But in the last year, due to varied circumstances, I found myself spending more on clothing than in past years. Maybe it was a form of numbing…spending money on "stuff" to make myself feel better, to treat myself or to fill some sort of hole inside me? Or maybe I just needed to replenish my closet after a few big purges and life/career changes? Regardless of the reason, when I looked back on my spending habits last year, I was a bit surprised at how much I spent on clothes for myself. An even bigger surprise was looking around my closet and still feeling like I had nothing to wear…how was that possible?!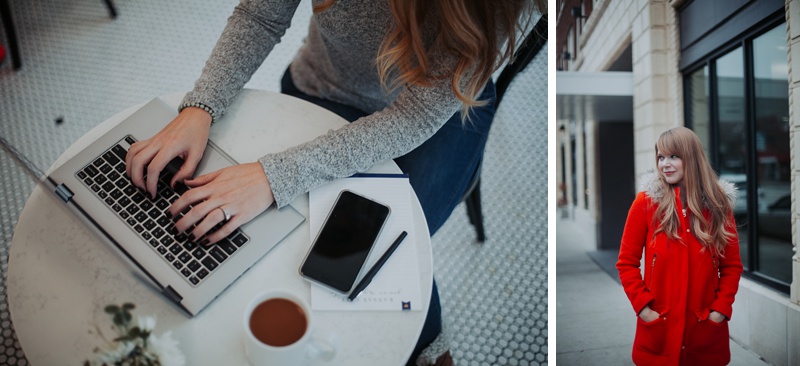 When it comes to clothes and apparel, less is definitely more for me. When I have too many choices, I become paralyzed and can't make a decision. Plus, I found I was purchasing the same items over and over again! It was just silly! I was shopping for sales instead of shopping for pieces (that dress is 50% off, I have to have it!) and that's not a habit I want to continue.
So this year I've made a commitment to myself to not purchase any new clothing, excepting specialty items like underwear or socks. I'm actually pretty excited about the whole thing! I think it will be a fun challenge to make due with what I have. Along with the cost savings to myself and my family, I have also been doing research on the global cost of "cheap" clothing (I have this book on reserve at the library…have you read it?) and how it's affecting our communities and our planet. As someone who spends a good deal of time working with an organization who's main goal is to help the poorest people in the world, my blatant consumerism of cheap clothing, most of which is made on the backs of these poor communities, just doesn't ring true. It's been fun to see how I can make this work, as more and more people seem to be trying this sort of challenge. I'm excited to start perusing thrift and vintage stores for used garments and have even pondered learning to knit or sew this year. I'm not very crafty by nature, so this would be a pretty massive challenge!
What about you? Have you ever thought about your purchasing habits when it comes to clothing? Would you consider cutting out buying anything new for a year?
http://www.crazybananas.com/wp-content/uploads/2018/01/2018-01-29_0001.jpg
533
800
Megan
http://www.crazybananas.com/wp-content/uploads/2015/07/Crazy_Banans_Logo_WebsiteBanner.png
Megan
2018-01-29 13:07:31
2018-01-29 13:07:31
Welcome 2018 Part 3 : Consuming vs Creating