Okay, friends…it's been a hard, long, exhausting few weeks around here. When things get hard, that's when I used to reach for unhealthy solutions to make all the bad feelings go away, but in the last few years I've made it my MISSION to find better ways to cope. Some of these things have been ongoing (exercise, eating better, watching dumb TV, therapy, recovery meetings, etc.), but since the last few months have provided new and unique challenges, I've found myself more mindful of things that are making me happy. It's just how things work, isn't it? When life is all happy frappy, you don't necessarily notice the little things that make you smile. But when life is a bit darker, the things that light up your day, even if it's just a little bit, make all the difference.
So here are a few things that have been making me happy lately: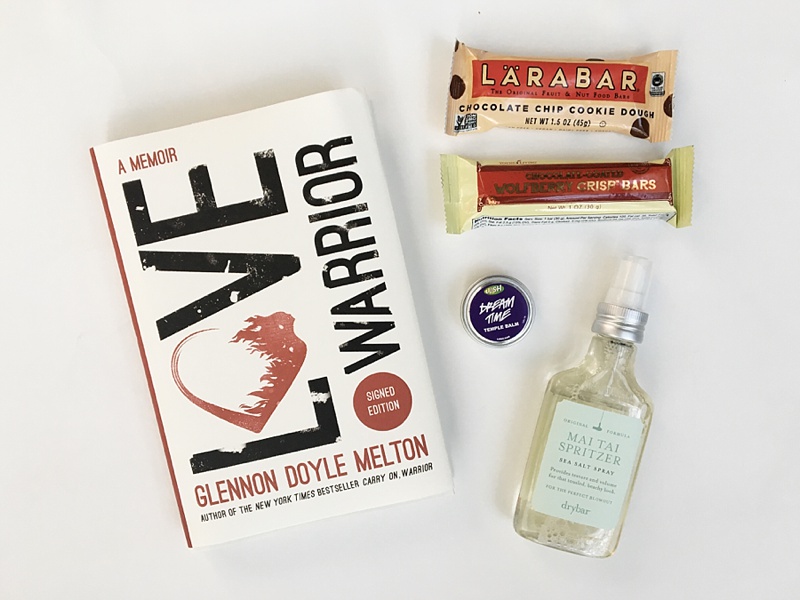 1. Love Warrior by Glennon Doyle Melton – I have shared my love of Glennon, the brilliant mind behind the Momastery blog, before (remember when I met her and cried and she hugged me?!), so I was more than excited when I heard about her upcoming book Love Warrior. I preordered a signed copy last Spring, and while the official release date is September 6th, I was pleasantly surprised to find it in my mailbox yesterday! I've only read a few pages so far, but I'm already engrossed in this memoir. You should absolutely order yours so you can get it next week when it comes out everywhere!
2. My Fake Candy – You guys, I'm a bit of a sweet tooth. I may or may not have bought an entire cherry pie the other day because I was feeling low. And while I definitely think it's okay to treat yourself and ice cream can help when you're sad (and it's a much better choice than alcohol or drugs!), I know myself, and treating feelings with food isn't usually a good choice (note: USUALLY…there are always ice cream exceptions). So I've been looking for a few healthier options for when my sweet tooth is raging, but I know I don't want to eat a tub of Ben and Jerry's. These chocolate chip cookie dough Larabars legitimately taste like candy to me, and are my favorite substitute when I am craving sugar. I'm also a huge fan of these wolfberry crisp bars from Young Living, which curb my chocolate craving.
3. LUSH Dream Time Temple Balm – My sweet husband LOVES giving gifts, so he always finds the kids and I little presents when he goes on work trips. When he returned from Las Vegas a few weeks ago, he brought me back a kit of fun bath products and beauty items from the brand LUSH, and this Dream Time Balm is my favorite. You rub a little on your temples right before bed, and all of a sudden your bedroom feels like spa!
4. Mai Tai Spritzer from Drybar – Okay, I'm not gonna lie…the other day I was feeling depressed and decided to go wander the mall. Is this healthy? Probably not, but I am not much of a shopper, so I figured it would be alright to do it once. Anyway, I found myself in Sephora with the goal of "finding something that makes me happy." This sea salt spray for my hair was the winner! It smells like summer and heaven, and every time I put it on my mood elevates. #worthit
What's making you happy right now? I need a few more things to add to my arsenal! All suggestions are welcome! If you need me, I'll be over here eating ice cream Larabars…
http://www.crazybananas.com/wp-content/uploads/2016/09/2016-09-02_0001.jpg
600
800
Megan
http://www.crazybananas.com/wp-content/uploads/2015/07/Crazy_Banans_Logo_WebsiteBanner.png
Megan
2016-09-02 13:49:16
2016-09-02 13:49:16
A Few Happy Things