Today I turn 35 years old.
Is that old? I'm not sure. In some ways it feels old, because when I was young, I never imagined what it would be like to be 35. But in other ways, it feels so young, because I'm constantly around people who are older, wiser and have much more life experience.
35 feels significant to me because during my last BIG DEAL BIRTHDAY, when I turned 30, I was at one of the lowest points in my life, both physically and mentally. I was two months away from my first stint of sobriety (when I told myself I wouldn't drink for 30 days…I lasted 28 before I caved, and then figured I was totally fine because I could stop for 28 days), four months away from really trying to not drink anymore, and six months away from finally kicking the booze for good. It was a WONDERFUL birthday (my very first trip to Vegas with friends), but as a whole, I wasn't in a great place.
This time around, it's a little different. I don't have any huge trips planned, but I may go to lunch with some friends and a movie in the evening. I won't be dancing the night away in Vegas, instead I'll hopefully be in bed by 10 p.m. And there is one hugely significant change.
I'm sober. And it feels awesome.
I've talked quite a bit about how my drinking affected my mind, but today, on my birthday, I'm gonna get a little vain. Because while all the mental and spiritual changes have been amazing, there is a one huge change that is pretty evident, and it's one we, as women, don't like to talk about too much. We don't want to sound vain or snobby, and we don't want to call attention to ourselves. At least, I don't. It's also sort of scary to put this before and after out on the world wide web, where anyone can see it. But here we go.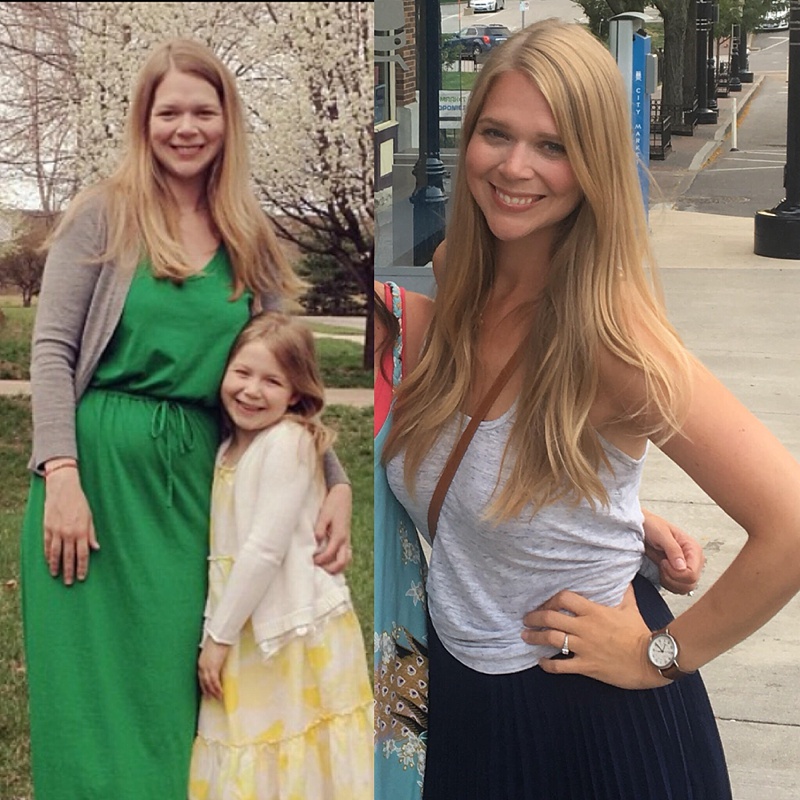 You guys, I look SO MUCH BETTER. The photo on the left is me two days before I finally got sober and the one on the right is this past summer after four and a half years.
I think the differences are obvious, but just in case your computer resolution isn't on point or something, let me list it out for you…
Before
– Bloated face and stomach
– 30 lbs heavier
– Skin is sallow and unhealthy looking
– Hair looks fried and dull
– Posture is sloped and self-concious
– Eyes are dead and sad
*Kid who is with me is THE CUTEST and I'm so happy I was able to give her the gift of a sober mom.
After
– 30 lbs lighter, added muscle, zero bloat
– Hair is shiny and healthy
– Skin looks best it's ever looked
– Eyes are bright and alert
– I am standing up straight and proud
– Smile is genuine and happy
You guys, it's a miracle. I am asked all the time what my health regimen is and how I have managed to look younger at 35 than I did at 30. My secret? Being sober. When I'm sober I eat better, I sleep, I drink a ton of water, I read, I meditate, I work out and I take care of myself. I spent so many years dumping poison into my body to escape who I was, but when I stopped, I realized I LIKE who I am, and I'm worth being around. So instead, these days, I treat my body like it's the best thing that's ever happened to me. Because I'm so, so lucky to have a body that can run and play with my kids. I'm incredibly fortunate to have a mind that can read and learn new things. It's my obligation to treat it the best I possibly can.
So that's my gift to myself today, on my 35th birthday. The gift of sobriety. Maybe I'll have some cake and ice cream on the side.
http://www.crazybananas.com/wp-content/uploads/2017/09/2017-09-19_0001.jpg
800
800
Megan
http://www.crazybananas.com/wp-content/uploads/2015/07/Crazy_Banans_Logo_WebsiteBanner.png
Megan
2017-09-20 08:04:58
2017-09-20 08:04:58
How to Age Backwards : Get Sober