I've been fortunate to have a plethora of tools in my recovery toolbox since I first got sober over four and a half years ago. I've gone to 12-step meetings, yoga classes, downloaded meditation apps, started a gratitude practice, participated in therapy…the list goes on and on. But one of the greatest tools I've had since the very beginning is access to podcasts.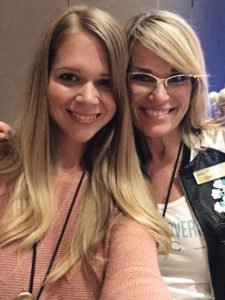 These days there are tons of amazing podcasts about sobriety (Home podcast, Recover Girl), but when I was getting sober, there was only one that I could find, the Bubble Hour. I'll never forget my first summer of recovery, when I had three major roadtrips with my 6 and 2-year-old, and I downloaded every Bubble Hour episode I could fit on my phone to get me through it. I was so humbled when I was asked to be on the show a few years ago, and even more so when Jean asked me to be on again a few weeks ago. I met Jean McCarthy (the host of the Bubble Hour and author of the Unpickled blog) at the She Recovers Conference back in May. Getting to hug her in person was one of the greatest moments of the trip, as she's been such a huge part of my journey.
Jean and I sat down for a conversation about recovery and what's happening in the world today. We did our best to keep personal political beliefs out of it, but if you follow me anywhere online, you know I believe that all politics are personal and that as people in recovery, we are uniquely tuned in to the plight of those that are suffering. My activism is directly tied to my sobriety, and so we discussed that, along with a few tips to help newly sober people navigate difficult conversations with loved ones about politics. You can listen via iTunes or by using the media player below!
http://www.crazybananas.com/wp-content/uploads/2017/09/2017-09-08_0005.jpg
1066
800
Megan
http://www.crazybananas.com/wp-content/uploads/2015/07/Crazy_Banans_Logo_WebsiteBanner.png
Megan
2017-09-11 10:04:13
2017-09-11 10:04:13
Talking Politics and Sobriety on the Bubble Hour