Here's the thing, you guys, I have a hard time sticking with a fitness plan. There are a million reasons (excuses?) why that is, but mostly it's because I don't have the time! As a working mom of two who likes her television probably a little too much, I struggle to choose fitness over other things….like Netflix. But I'm getting older and these days I can feel my body start to fight back when I don't take care of it. So in the past year I've started trying to make fitness more of a priority in my life, but I have to keep mixing it up a bit, or I can get bored quickly. If you're local, you may have seen me this morning on the Fox 4 Morning Show sharing about some of my favorite ways to stay fit, even when I'm "too busy." I definitely mix it up between local classes and online workouts, and I've tried a TON of different programs. After lots of starts and stops, these are the top four that have really worked for me this past year: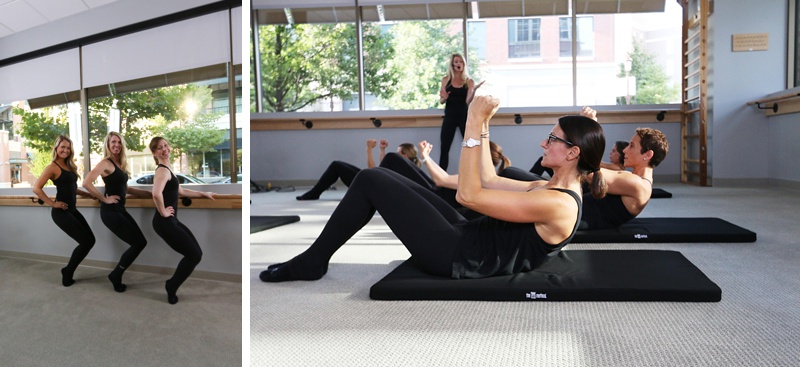 1. Bar Method – This is by far my favorite workout…I'm grateful that Bar Method has two locations in Kansas City and tons of classes to choose from! The hour-long class targets specific muscles and improves balance and core strength. I've never looked or felt stronger than I have since I started taking Bar Method classes. Plus, the classes are fun, the teachers have so much energy and the community is always encouraging. An additional bonus…they offer childcare while you take class! Score for all the mamas out there! Bar Method is celebrating 5 years in Kansas City with an awesome anniversary event on November 5th, which will include tons of giveaways, freebies, different classes and more! But if you can't wait until then, they are also running a great deal right now where you can sign up for 45 classes in 45 days for only $75…which is a total steal! Just use the code "Fall into Bar" when you purchase your classes.

2. Yoga Glo – This app (which you can download for Android or iPhone) is basically like having a yoga studio in your pocket! It was recommended to me by a yoga teacher friend of mine, and has hundreds of classes by a ton of incredible teachers. Plus, it's portable, so you can fit in your yoga time anywhere! Yoga Glo is free for the first week, but then you pay $17.99 per month to continue the service.
3. The Balanced Life with Robin Long – I heard of Robin earlier this year when I saw a Facebook ad for one of her 30 days of pilates challenges…and I never looked back! She provides so much amazing fitness content, like free online video workouts, recipes and more that are tailored toward busy moms. With her Balanced Life Sisterhood program ($13 per month) you get even more content, including meal planning, workout calendars and an incredible community of women who support each other as they get fit together.
4. The Fitness Marshall – If you haven't heard of these amazing dance workouts on You Tube, get your booty over there and try one! The Fitness Marshall videos are incredibly fun, and even if you're not the best dancer (ahem…me!) you will get your heart rate up and your blood pumping while dancing to hit songs. My kids even love doing this with me!
http://www.crazybananas.com/wp-content/uploads/2016/10/2016-10-18_0001.jpg
367
800
Megan
http://www.crazybananas.com/wp-content/uploads/2015/07/Crazy_Banans_Logo_WebsiteBanner.png
Megan
2016-10-18 15:25:04
2016-10-18 15:25:04
Fitness Solutions for Mamas