Is it just me, or did this year fly by? I feel like I just took down our Christmas tree and packed away our Menorah, and yet, it's time to pull everything out again! I have to admit, while I tend to be a bit Grinchy in general, I am one of those dorks that just LOVES the holidays. I put my tree up early and I am UNASHAMED! My favorite part of the day is waking up early in the morning for some quiet time before the rest of the house wakes up and reading/journaling in front of the Christmas tree. I light candles, snuggle up in a warm blanket, and basically totally embody the Danish word "hygge." Comfort, warmth, togetherness…to me, that's what the holidays are all about.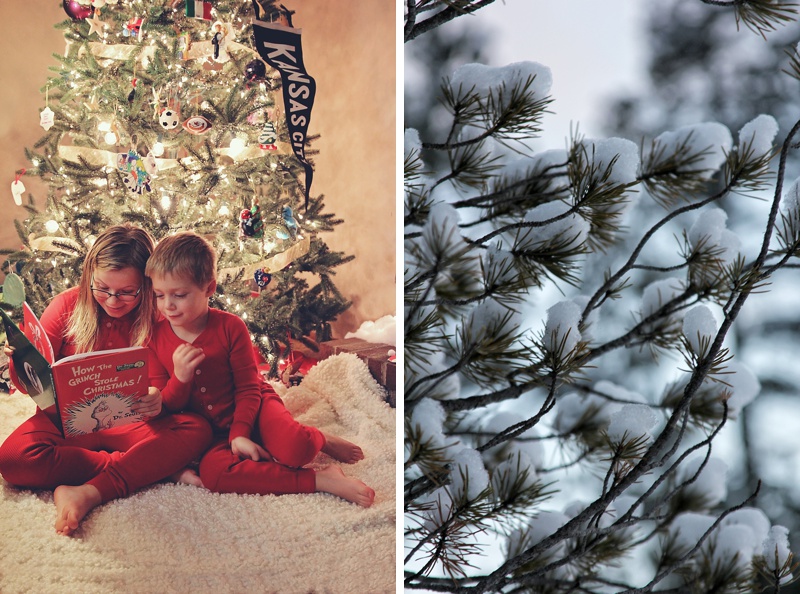 The holidays give us the perfect chance to bust out our cameras and take some beautiful photos of our lives. In fact, after my Summer Photo Challenge last year, the number one request I received was to do a Holiday Photo Challenge (keep an eye out during the 2018 holiday season…a challenge is in the works!). While a full challenge couldn't happen this year, I did want to share some of my top tips for snapping great images over your holiday. It's easier than you think!
1. Bust Out the Big Camera – If you've been reading here for a while, you know my general rule for photography gear is "use whatever you've got with you." I don't think anyone needs to spend a ton of money on gear to take beautiful photos, however, if you HAVE a nice camera that's gathering dust, this is the time to get it out! During the holidays there are a lot of low light situations (candlelight on the face, your little one gazing up at the Christmas tree, etc.) and most of the time, a cell phone camera won't due that justice.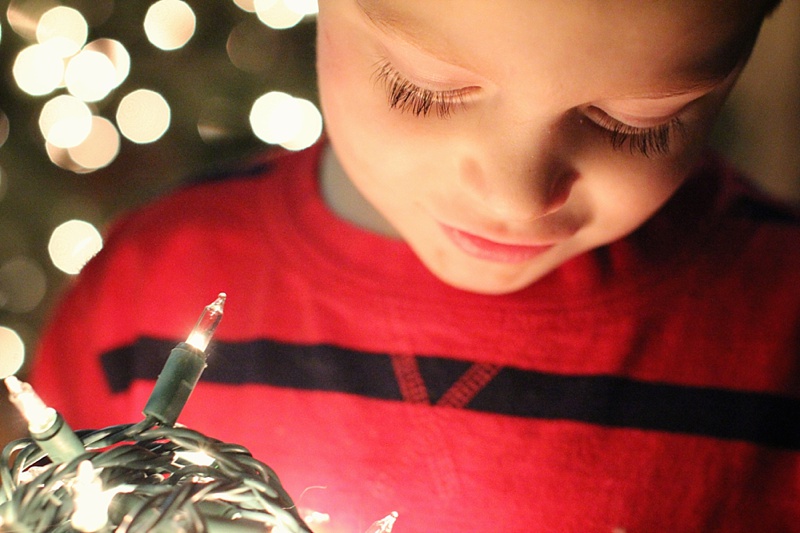 2. Look for the Light – This is a tip I use year-round, but in December, it's even more important. Natural light is much harder to come by, since the days are shorter, but you can still find pockets of light everywhere. Like I mentioned above, use the abundance of soft light from candles and holiday lights to your advantage. Gather around the fireplace and watch the shadows dance across your children's faces. Find inspiration in the light around you.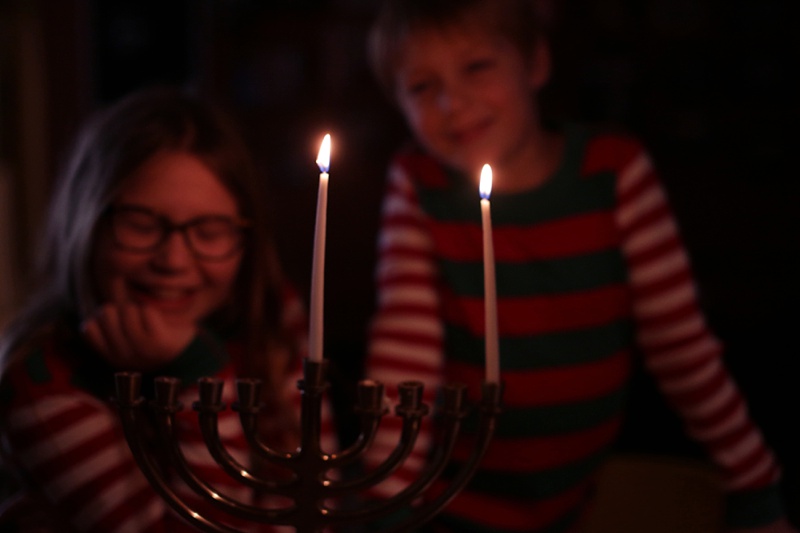 3. Put on Your Coat, And Go Outside! – I know, it's cold. But trust me, it will be worth it! The natural light in the winter always feels like magic to me, doubly so if there is snow on the ground. If you're trying to capture falling snow, make sure you are not shooting into direct sunlight, or it will be washed out of the frame. Even if the landscape seems dreary and grey, you can take an interesting image by focusing on a bright hat or coat on your subject.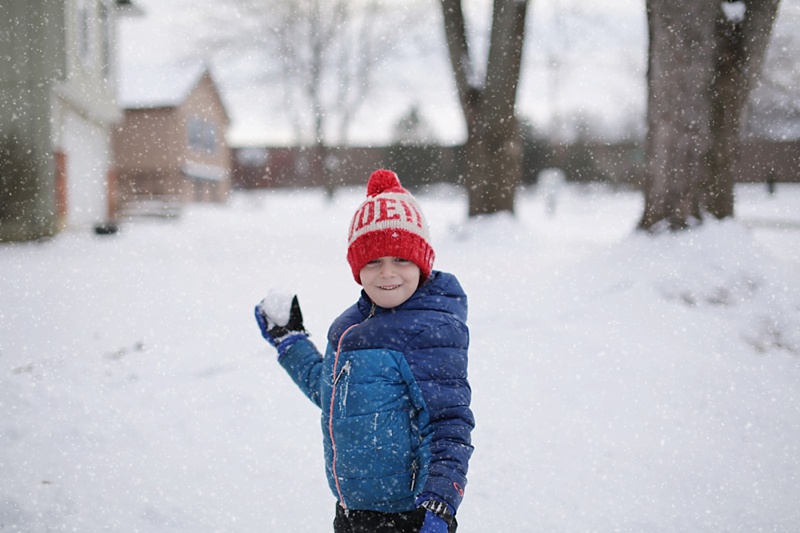 4. Look for Real Moments – It's easy to want to pose everyone perfectly for the quintessential holiday portrait, but candid moments are just as beautiful, and can sometimes be more memorable. When your family gets together, focus on the moments, and try to capture them. If it's a little blurry or the light is weird…who cares?! You'll be so grateful you have an image of grandpa reading the Christmas story or your aunt baking cookies with the kids. Don't get caught up in capturing perfection, and instead find the beauty in the imperfections.
5. Get in Front of the Camera – I am as guilty of this as anybody, but it's super-important that if you are the photographer in the family, you make a point to get in the photos as well. There have been holidays where you can't even tell I was there, even though I was the main director of all of the fun, because I was so busy taking photos of everyone else, I wasn't in any myself! Hand over your camera or phone to a relative and ask them to snap some images of you with your kids by the tree. Put the camera on a self timer (here is how you can do that on an iPhone) or use a remote trigger (did you know your Apple headphones double as a remote trigger for your phone camera?). Again, don't worry about making it perfect, odds are it may be out of focus or not a technical dream. Just make sure you are a part of the picture, not just an observer.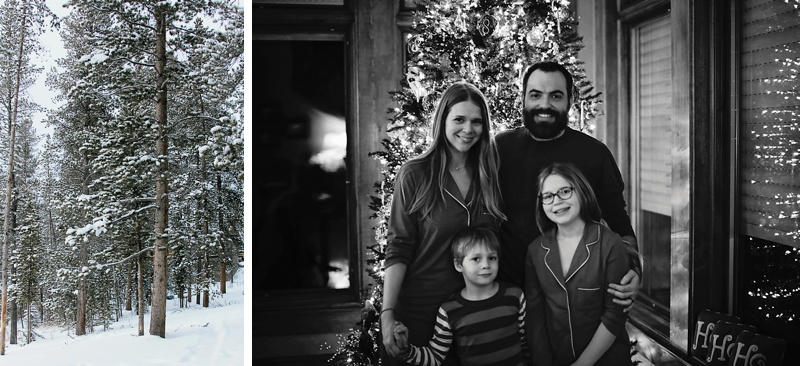 I hope this helps you get set to take some amazing holiday photos this year. And if you're interested in learning how to use your big, fancy camera a little better OR if you get one for the holidays as a gift (fingers crossed!), make sure you sign up for the Crazy Bananas newsletter! In 2018, I'm going to be offering some camera workshops for beginners, and I want you to be the first to know so you don't miss signing up!
http://www.crazybananas.com/wp-content/uploads/2017/11/2017-11-29_0002.jpg
533
800
Megan
http://www.crazybananas.com/wp-content/uploads/2015/07/Crazy_Banans_Logo_WebsiteBanner.png
Megan
2017-11-29 10:35:02
2017-11-29 10:35:02
Five Tips for Photographing Your Holidays