It's been a wild few weeks around here! I can't believe we only have a little more than a month left until school starts back up for the year. The first part of my summer was totally consumed with the 30 Days of Summer Photo Challenge, which meant less posting here on the blog for a bit. But before we get back to regularly scheduled programming, I wanted to share a little wrap up and some of my thoughts on the challenge as a whole.


Top to Bottom: Day 1 – Good Morning, Day 2 – Jump, Day 3 – Cold Treat, Day 4 – From Where I Sit, Day 5 – Light
The 30 Days of Summer Photo Challenge was an idea that came to me one night as I was lying in bed, trying to get to sleep. I imagined a photo challenge that went above and beyond the social media challenges I'd seen before. I wanted to create a community of people who could share their images and experiences with each other in a meaningful way. My goal was to lead a project that would encourage creativity and a daily practice of joy. Hence, the 30 Days of Summer Photo Challenge was born!

Top to Bottom: Day 6 – Filthy, Day 7 – Reading, Day 8 – Silhouette, Day 9 – Run, Day 10 – Picnic
But let's be real here….I had never done anything like this before! I had no idea how it would work or if anyone would even participate. I started piecing together how the project would run, and then reached out to others in the creative community for guidance and inspiration. I put together a simple email sign-up, knowing I wanted to have more of a connection with people than just a hashtag on social media. I host giveaways all the time on this blog and on Instagram, so I decided to do the same with the photo challenge. I followed the advice of those that have gone before me and created a private Facebook group for those who signed up for the challenge. I called up my media contacts and promoted the project all over Kansas City. And then all I could do was cross my fingers and wait!


Top to Bottom: Day 11 – Black & White, Day 12 – Barefoot, Day 13 – Grass, Day 14 – Naptime, Day 15 – Friendship
What resulted was so much more than I could have ever expected…I had double the amount of people sign up for the email challenge than I had planned. Throughout the month there were over 2,500 images submitted via social media! But my favorite part of the whole thing was the incredibly supportive private Facebook group. People not only shared their daily images, but their hopes, dreams and fears. Every day I'd get excited to head over to the group and see the photos and read all the stories. It was such a positive experience for me!


Top to Bottom: Day 16 – Evening, Day 17 – Shadow, Day 18 – Summer Uniform, Day 19 – Baseball, Day 20 – Dance
I couldn't have done any of this without the help of many, many people! From the creatives who shared their insight in the daily emails, to the brands that donated prizes for the giveaways, to my family and friends who cheered me on and shared the challenge with their communities….I'm so very, very grateful! Thank you just doesn't seem like enough!


Top to Bottom: Day 21 – Sprinkler, Day 22 – Travel, Day 23 – Smile, Day 24 – Someone I Love, Day 25 – Adventure
I've had a lot of people asking if I'm going to do another challenge like this, and the answer at the moment is "I have no idea!" While I would love facilitating this type of thing again, due to it's somewhat unexpected popularity, it was a LOT more work than I anticipated. The amount of time it took to run the challenge was pretty intense, so if I were to do it again, I would have to find a way to offset that. But I'm currently brainstorming and I'm hoping to find a way to make it work! I would love to do the challenge seasonally, or even do a holiday challenge later this year!


Top to Bottom: Day 26 – Swim, Day 27 – Summer Tradition, Day 28 – Making Me Happy, Day 29 – Reflection, Day 30 – Grateful
This is one of my favorite images from the challenge…it's a collection of photos shared for the theme "Smile." There is nothing more amazing then getting to see photo after photo of smiling faces in your newsfeed! I really am the luckiest! Much love to everyone who participated in the 30 Days of Summer Photo Challenge! Thanks for making my summer a lot more fun!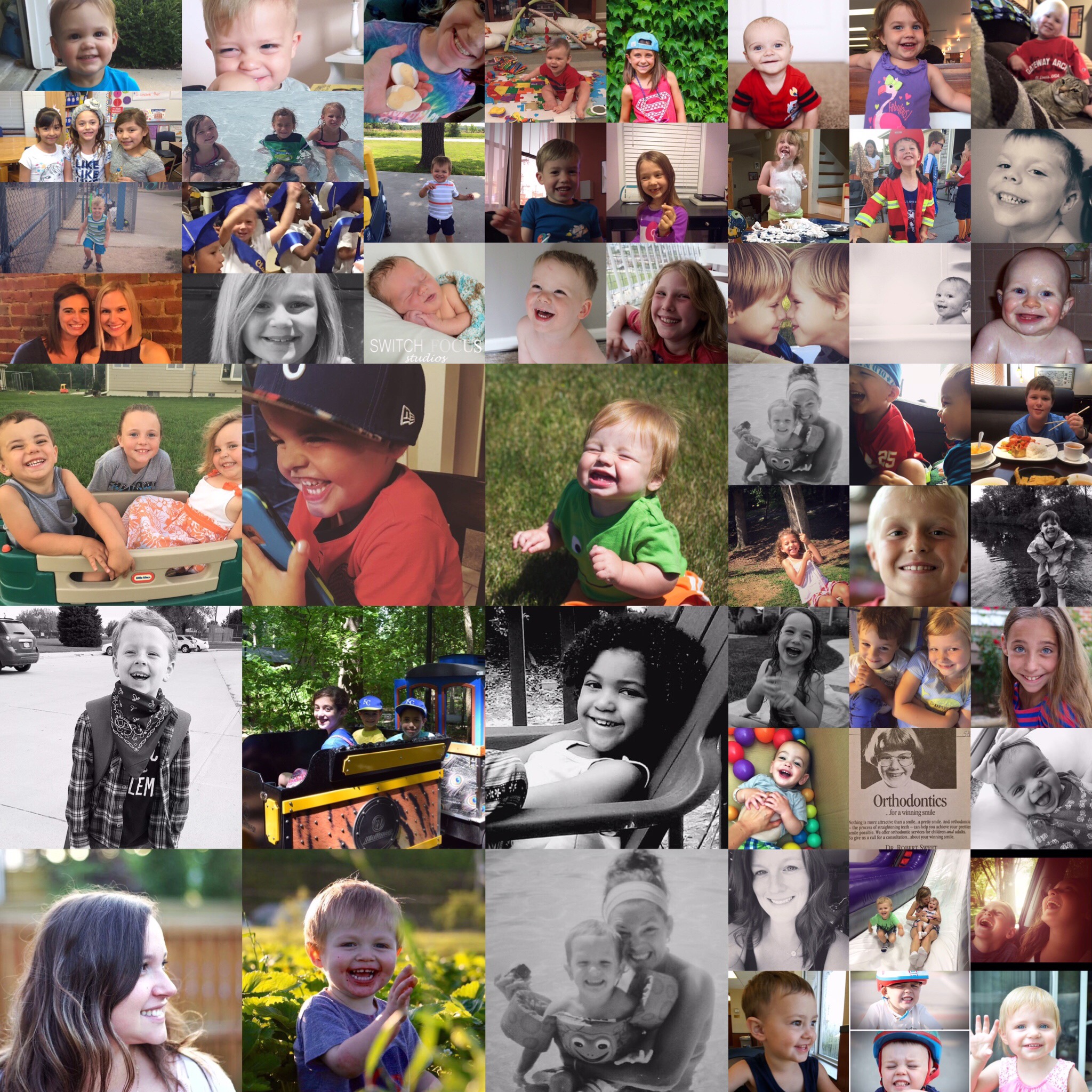 http://www.crazybananas.com/wp-content/uploads/2016/07/Photo-Jun-24-2-53-24-PM.jpg
2048
2048
Megan
http://www.crazybananas.com/wp-content/uploads/2015/07/Crazy_Banans_Logo_WebsiteBanner.png
Megan
2016-07-08 10:12:57
2016-07-08 10:12:57
30 Days of Summer Photo Challenge Wrap Up!