A few years ago, when I was new into my recovery, I started working on cultivating a gratitude practice. I had worked on being more grateful in the past, but I never really stuck with it. I knew that being thankful and paying attention to all the good things in my life would make me a happier person, but I couldn't seem to be able to keep myself consistent.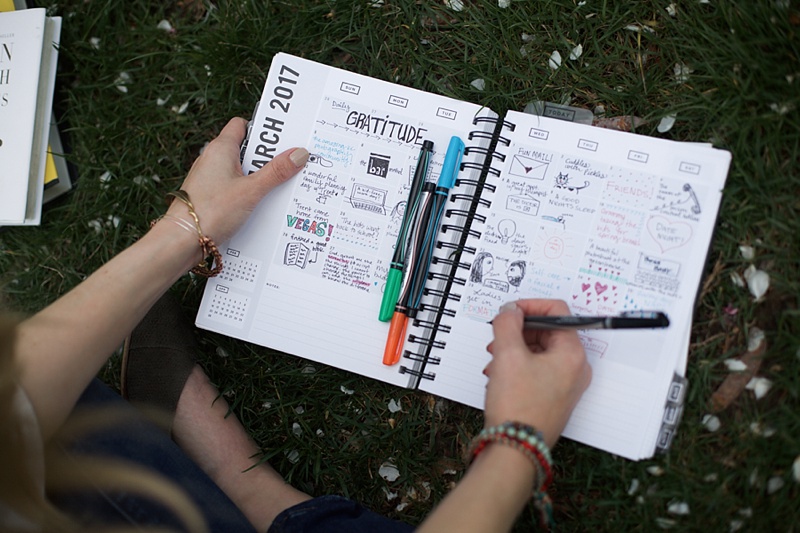 Then, around two years ago, I joined a "Gratitude Group" with a few other friends in recovery. The purpose of the group was to send each other a list of things we were grateful for every day. The hope was that by having others who were practicing with us, we'd all be more accountable and this practice would become a habit. We started out in a private Facebook Group, and then moved over to What's App for a while (some of the members lived in other countries, so texting was too expensive). I loved that group, but after a year or so, it fizzled out. Nothing horrible happened, we all just sort of moved on to other ways of working on gratitude and recovery. However, one member and I decided to keep it going, and we still send messages (almost) every day with three things we are grateful for. We share huge and tiny things, but just the act of looking at my day and finding something to be happy about makes me a better person. I love this woman and being able to share my happy moments, large and small, with someone and receive her good news is such a gift!
Recently, I decided to try an additional, creative gratitude practice. While I love sending my daily messages to my "Gratitude Buddy," I was finding myself stressed out about it! Yes, I was stressed about being grateful. I know, I know. But the ease of having it right on my phone meant often I was just realizing I needed to send my list at the last minute and rushing through the process. I'd quickly come up with a few things and send it off, without really thinking about it.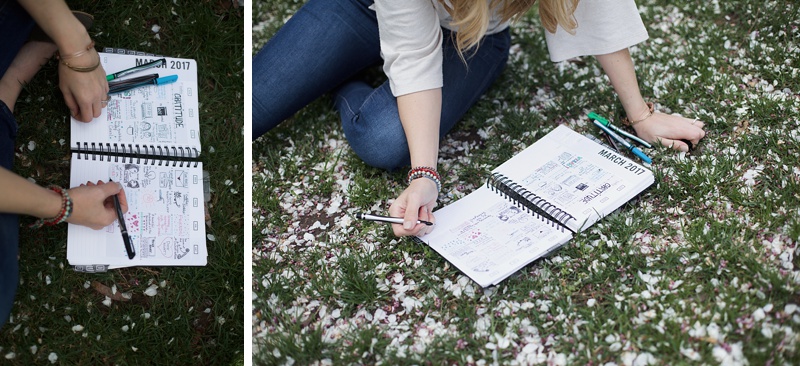 Recently I was browsing Instagram (I'm so grateful for Instagram!) when I came across a photo in the feed of one of my favorite planner shops, the Get to Work Book. In their feed, they featured a photo where someone used their monthly layout in the planner to sketch out their gratitudes. I thought it was such an awesome idea!!! And since I have a Get to Work Book and rarely use the monthly spreads (I mostly use the weekly spreads and use my online calendar for monthly to-do's) it was the perfect solution! Now, I am NOT an artist or illustrator…my drawings often look like my six-year-old created them, but I thought it was a fun way for me to sit down every day and REALLY THINK about what I was grateful for, and then spend some time drawing it. I've found it to be a fantastic way to end my day and to slow down when I feel my brain spinning out of control.
I still text my daily list to my "Gratitude Buddy," but I'm finding this illustration practice is an amazing addition to my life. I love looking at past months, seeing what I drew (and let's be honest, laughing at my drawing skills) and remembering how truly lucky I am.
http://www.crazybananas.com/wp-content/uploads/2017/04/2017-04-19_0001.jpg
533
800
Megan
http://www.crazybananas.com/wp-content/uploads/2015/07/Crazy_Banans_Logo_WebsiteBanner.png
Megan
2017-04-19 21:32:01
2017-04-19 21:32:01
A New Gratitude Practice