There is something pretty amazing about finding a creative outlet and losing yourself in it. I've been fortunate enough to have had lightening strike twice before in this capacity. First, when I started this blog in 2004. What began as a way for me to let off steam, share with friends and family, and improve my writing voice quickly became one of the best parts of my life. I found myself writing into all hours of the night, only stopping when I could no longer keep my eyes open. I wasn't writing for the likes or clicks, but because I simply enjoyed it.
Later, I found a similar peace in photography. I would sit at my computer as my family slept, learning new editing techniques and taking online classes. Photography felt like a puzzle that I was learning how to put together. I couldn't afford to go back to school full time, but I could use every tool the internet put at my fingertips to be the best I could be. At the time, I wasn't charging for my skills or take photos of others, but instead just doing it for the pleasure of creating. It was a wonderful time in my life.
It's been a few years since I took these creative endeavors and made them into my career, and while I wouldn't change a second of it, I do often miss that feeling of joy and freedom that comes from just making something because you feel called to do so, with no thought of outcomes.
I have been noodling around the thought of creating a podcast for a few years, but I never found an idea that really lit me up. I didn't want to remake any of the amazing podcasts already out there, I wanted to do something new. However, I've been lucky enough to have been interviewed for a few awesome podcasts, so I had baseline knowledge of what I needed to make one of my own. And out of nowhere, this past summer (while in the shower because all good ideas come while I'm in the shower) I had finally had an idea for a podcast that I couldn't shake. You see, that's how I know a creative inspiration is one that MUST be carried out…when I just can't get it out of my head. Usually the plans come and go, but this one just kept cropping up in my mind. So I decided to sit down and do some research…how does one create a podcast?
Turns out, my old friend "The Internet" still holds a lot of keys to the mysteries of creativity, and I found a wealth of information to get me started. Now, usually this leads to me becoming overwhelmed and giving up. But not this time!
I slowly started working on this little idea until it became a reality. And today, I'm sharing it with you!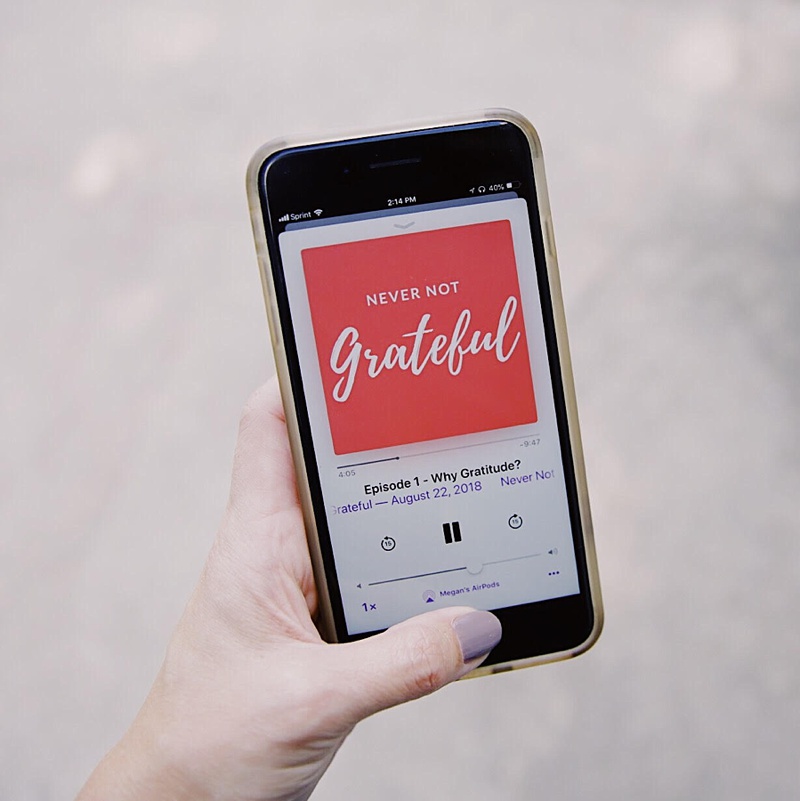 Never Not Grateful is a podcast about how gratitude can change your life for the better. One of the most significant tools I've used in the last five and a half years into my recovery has been cultivating a daily gratitude practice, and I realized this is something that's not as popular outside of the recovery world. I wanted to share how gratitude has changed my life, and how anyone can use a gratitude practice to make themselves happier and healthier. Of course gratitude makes us feel better emotionally…that's obvious! But did you know that by consistently practicing gratitude, you can improve your mental and physical health as well? It's true! Studies have shown that people who practice gratitude sleep better, have more energy, are more alert, live longer and are more optimistic.  So why not give it a shot?
Never Not Grateful is a podcast that will dive deeper into how to create a gratitude practice, how to cultivate it daily, and how to surround yourself with people who encourage thankfulness. We will be talking about specific, simple things you can do TODAY to change your life for the better. I will also be interviewing inspiring people about how they have used gratitude to get through life's challenges. I have plans to do episodes on motherhood, politics, grief and much more.
This is the first time in a few years that I've felt the creative pull from beyond…like I couldn't rest until this idea was made and put forth into the world. However, I am feeling a little apprehensive. So far the only people that have listened to Never Not Grateful have been those in a trusted circle. It has been received with such joy and support, I have been overwhelmed, and part of me wants to keep it close so it can't be ruined by critiques and unkindness. But then I remember the whole point of making this thing was to encourage more people to share and cultivate gratitude, and that won't happen if I keep it all to myself. I hope you enjoy this little project and that it helps you find a little more gratitude in your day.
You can follow Never Not Grateful on Instagram, and listen via most podcast apps, including:
*If you don't see your podcast app listed here, try searching for Never Not Grateful within the app itself and it should come up. Click the video below to hear a short preview of our first episode. If you enjoy Never Not Grateful, please rate and review in your podcast app, as that's the best way for new podcasts to get seen by more people! 
http://www.crazybananas.com/wp-content/uploads/2018/09/2018-09-11_0004.jpg
801
800
Megan
http://www.crazybananas.com/wp-content/uploads/2015/07/Crazy_Banans_Logo_WebsiteBanner.png
Megan
2018-09-11 12:38:20
2018-09-11 12:38:20
Introducing : Never Not Grateful the Podcast!