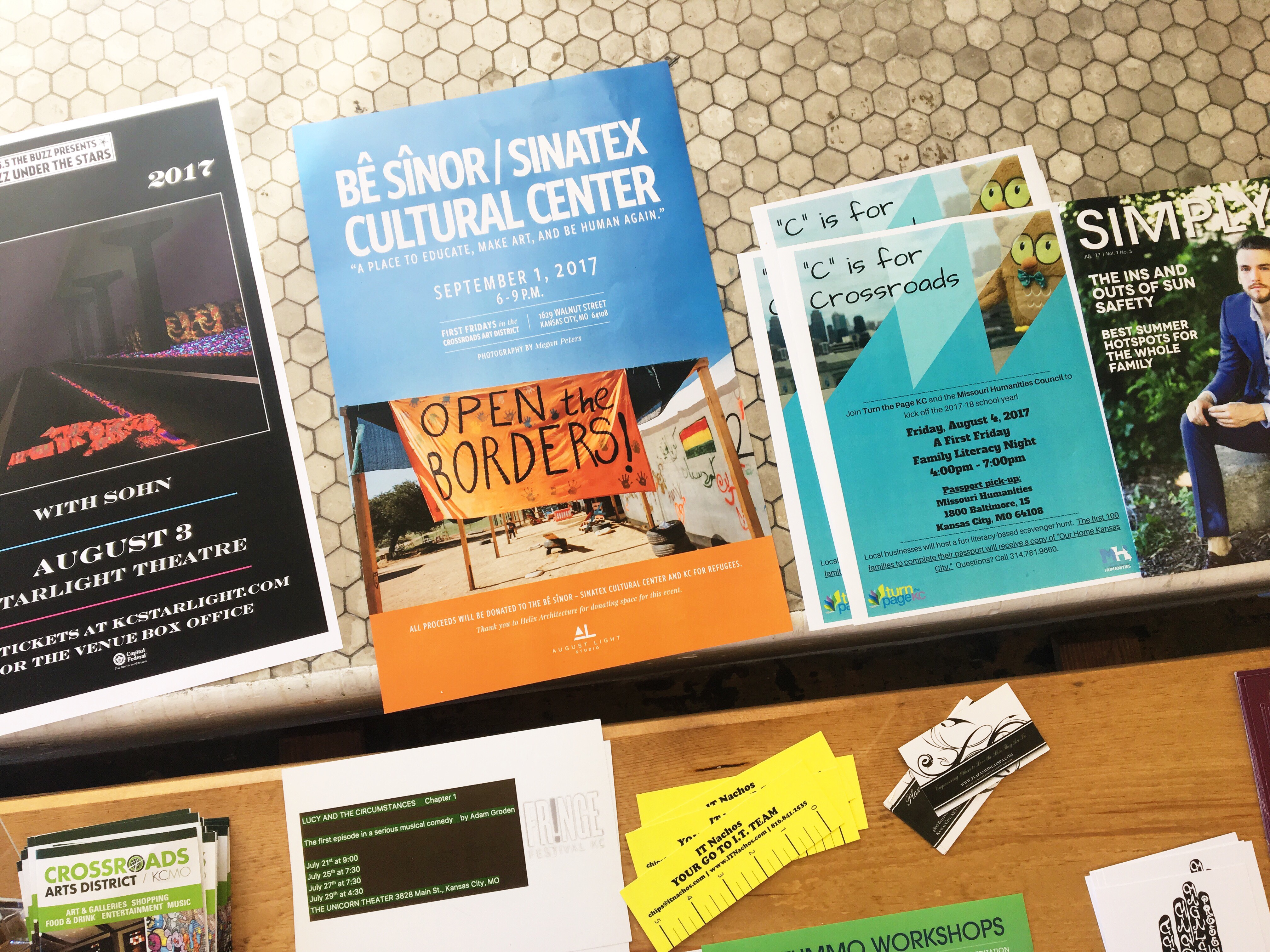 In October of 2016, I traveled to Greece to visit a refugee camp for Syrian's fleeing civil war. I found an amazing place, the Bê Sînor – Sinatex Cultural Center, where volunteers from around the globe focused their attention to a small, forgotten camp, half an hour out of Thessaloniki. Camp Sinatex is a family camp of 300 Kurdish refugees, nearly all Syrians. At first the volunteers concentrated on aid supplies and non food items, but soon realised that the most important thing they could do for the people, especially the 120 children, was to provide them with lessons and informal education. The proceeds from this photo exhibition will benefit the Bê Sînor – Sinatex Cultural Center and the local group KC for Refugees, which does wonderful work in the Kansas City community connecting people who want to help with refugees who have been resettled in our area. Helix Architecture has generously donated their space for us to use for this amazing event!

September 1, 2017
6 to 8:30 p.m.
Helix Architecture
1629 Walnut
Kansas City, Missouri
RSVP HERE
UPDATE: We will have a kid-friendly space at this exhibition, so please feel free to bring your children!
About the Bê Sînor-Sinatex Cultural Center
After the evacuation of Idomeni, an informal refugee camp on the border of Greece and Macedonia, in May 2016, thousands of refugees were placed in military camps across Northern Greece. Camp Sinatex is a family camp of 300 Kurdish refugees, nearly all Syrians. Almost half of those residing at the camp are children. The global migrant crisis across the region has disproportionately affected children. Nearly half of the 4.9 million Syrians on the run from the brutal and deadly civil war are children. According to UNICEF, the Syrian conflict has put 2.8 million children out of school, including 2.1 million inside Syria and 700,000 abroad. The volunteers at the Bê Sînor-Sinatex Cultural Center realized the most important thing they could do for the people, especially the 120 children at the camp, was to provide them with school lessons and an informal education. The set up for the informal school is very basic. There are two tents and some benches, plus one notebook to cover all subjects. They found a piece of private land and began teaching. There are seven teachers from the refugee community who are teaching Arabic, Kurdish, math, science and geography. They also provide Kindergarten for the youngest children at the camp, and volunteers from all over the world are teaching English to all ages, including the adults. These children have been deprived of everything, and many of them have never been to school in their lives because of the war. The effects of the loss of education on this young generation could be detrimental. While 91% of children around the world are enrolled in school, only 50% of refugee children attend primary school. Without the chance to study, an entire generation is at risk. According to the United Nations High Council for Refugees (UNHCR), "In times of displacement, education is crucial. It can foster social cohesion, provide access to life-saving information, address psychosocial needs, and offer a stable and safe environment for those who need it most. It also helps people to rebuild their communities and pursue productive, meaningful lives."
About KC for Refugees
We provide Greater Kansas City's diverse community and organizations a platform to welcome our local refugee families through our core mission of education, connection, support and collaboration.
EDUCATE community groups and organizations on the refugee settlement process* at national and local level
CONNECT community groups both with local refugees through social activities and with each other
SUPPORT refugees by working with local agencies and encouraging people to donate time, funds and household items
DEVELOP alliances with regional and national organizations working toward the same vision
* How The Office of the United Nations High Commissioner for Refugees (UNHCR) works with designated local agencies in the selection, placement, and support of refugees and their families.
About Megan Peters
Megan Peters is a photographer based in Kansas City and founder of August Light Studio, a photography studio focused on creating imagery for professional and commercial businesses. Megan has a Bachelor's Degree in Journalism from the University of Kansas, and is an award-winning photographer and writer. In 2016, Megan traveled to Northern Greece with her good friend and academic researcher Theresa Frey, where she visited the Bê Sînor-Sinatex Cultural Center, an informal school within the Camp Sinatex, a camp for 300 Kurdish Syrians fleeing from civil war. Her photographs from this trip have been used in academic research to showcase the reality of education opportunities for refugee children. In 2015, Megan was the featured photographer for the Phoenix Project, a community art project, which included Megan's photographs of domestic violence survivors. Megan was awarded "Artist of the Month" by the South Mass Street Art Guild (SMAG) for her work on the Phoenix Project. In 2013, Megan was the recipient of a grant from the beauty brand Olay, who funded "The Motherhood Project," a collection of photographs of women, which capture the strength, joy and melancholy of motherhood and all its challenges. You can learn more about Megan through her blog, crazybananas.com or at augustlightstudio.com.
Save
Save
Save
Save
http://www.crazybananas.com/wp-content/uploads/2017/08/958B40CA-DB81-4FA0-9048-0A486C760041.jpg
3024
4032
Megan
http://www.crazybananas.com/wp-content/uploads/2015/07/Crazy_Banans_Logo_WebsiteBanner.png
Megan
2017-08-27 22:11:32
2017-09-05 13:24:11
First Friday Photo Exhibition : September 1st!