One of the best parts of my creative journey over the past year has been the opportunity to work with so many talented photographers and artists from my area. I think being a creative entrepreneur can be a lonely experience, even for an introvert like myself, so making these connections with other makers, creators and artists has been paramount to keep me on the right path. And every day I'm inspired by the work these artists are doing in our own community, to continue making it a better place to live, learn and work.
One of these women that I've been lucky to meet this past year is Amanda Yount, of Amanda Yount Photography (AYP). Amanda is one of those people who is so giving with her talents, reaching out and being open and authentic with not only myself, but tons of other photographers as we grow our own businesses. Amanda's primary clientele is high school seniors, so this year she decided to put together an INCREDIBLE opportunity for her Senior Elite Models and for our entire community!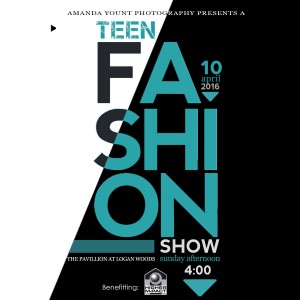 I am thrilled to announce Amanda Yount Photography, the premiere photography studio for Kansas City-area seniors, is hosting a Teen Fashion Show on Sunday, April 10, 2016 at the The Pavillion at Logan Woods starting at 4pm. Proceeds will benefit Higher M-Pact, a 501c3 organization dedicated to empowering high-risk urban youth.
As a fashion-forward, high school senior portrait photographer, Amanda is passionate about creating a positive and empowering experience for my teen clients, while also giving back to other youth throughout Kansas City. Amanda Yount Photography will feature both our Senior Elite Models and Higher M-Pact youth in this unique and exclusive runway show. The following high schools will be represented: The Barstow School, St. Thomas Aquinas, Concordia High School, Santa Fe High School and Higginsville High School.
Higher M-Pact's focus is to mentor, develop and restore hope in high-risk urban youth and high-risk communities, by turning obstacles into opportunities. Their "Leaders of Tomorrow" mentor program offers intense, long-term mentoring for a select group of high-risk urban adolescents aged 11 and up. Higher M-Pact also provides life and social skills training, spiritual development, education, job training, guidance counseling, recreational service and teaches youth how to give back to the community. Higher M-Pact's Project Restoring Hope features beyond school programs which promote structure and provide positive activities for youth in high-risk communities. Project Restoring Hope also includes annual events, activities and programs that focus on building relationships. Go to their website to learn more about their wonderful organization and how you can get involved.
Tickets for the Teen Fashion Show can be purchased either online by clicking here or at the box office. All proceeds benefit Higher M-Pact. I would love to see some of your smiling faces there!
http://www.crazybananas.com/wp-content/uploads/2016/04/12952950_10156788808690051_437269964_o.jpg
1500
1500
Megan
http://www.crazybananas.com/wp-content/uploads/2015/07/Crazy_Banans_Logo_WebsiteBanner.png
Megan
2016-04-04 15:49:11
2016-04-04 15:55:32
AYP Teen Fashion Show!