A few years ago this site went through a major redesign for the millionth time. It was the first time I had hired an outside designer to create a logo and design materials for me to use throughout the site and it felt like such a luxury to do so! I loved the clean look of the site and the splash of color and fun the logo brought to my brand. However, it's been about three years since that redesign, and while I have updated the look of the website, the logo and my other branding was starting to look a little stale. So earlier this year I hired the amazing Sarah of Floc5 to freshen things up! I love what she did, taking a logo I absolutely loved and updating it without losing the original intent. Crazy Bananas Creative Studio is quite frankly an accidental endeavor…a product of a creative mind trapped inside the head of a non-artist. When I began this site 11 years ago, it was a way for me to let out all of the musings in my head through writing and then photography, but it certainly wasn't a serious business. It was fun, silly, sometimes completely inappropriate and mostly novice. I really wanted to keep that spirit as I move forward, because when I take myself too seriously, I almost always lose my way.
Sarah did a wonderful job of creating a logo, which captures the original, wide-eyed optimism of an artist discovering her canvas, as well as incorporating a more slick element that helps elevate Crazy Bananas Creative Studio to the level where my business now operates. The past, the present and the future…all in one paint drop!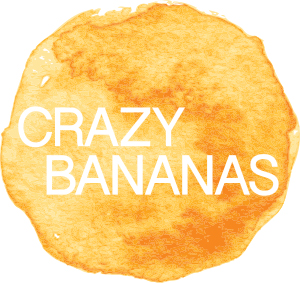 I will be working with Floc5 on some upcoming projects both for the site and for other clients, and I can't wait to share more of her work with you all. It's pretty fantastic!
http://www.crazybananas.com/wp-content/uploads/2015/07/Unstyled-June-2015-003.jpg
2725
4087
Megan
http://www.crazybananas.com/wp-content/uploads/2015/07/Crazy_Banans_Logo_WebsiteBanner.png
Megan
2015-07-21 08:06:47
2015-07-21 08:06:47
An Updated Look for Crazy Bananas!