In honor of National Baby Safety Month, I was asked to share a few of my top safety tips for parents over on Kansas City's own Fox 4 Morning Show today! (I will link and embed the video when it's available.) Becoming a parent can be a stressful transition, and the last thing I wanted was for something in my home or car to be dangerous for my child. Luckily with some simple adjustments, you can make your space much safer and gain a little peace of mind as well.
Home Safety Tips
1. Clean Up Your Cleaning Supplies – One of the biggest hazards for little ones is when they get into home cleaning supplies. Make sure all chemical cleaning supplies are locked up in a childproof cabinet, with the sprayers turned to the off position. You can also replace your cleaners with less toxic or homemade versions. My favorite non-toxic cleaner is Young Living's Thieves Household Cleaner, which does not made with any dangerous chemicals. It also can be used on everything from glass, to surfaces to floors. You can also make your own household cleaner, by mixing one cup of white vinegar with one cup of water. I add in lemon oil as well, just to cut down on the vinegar smell a bit.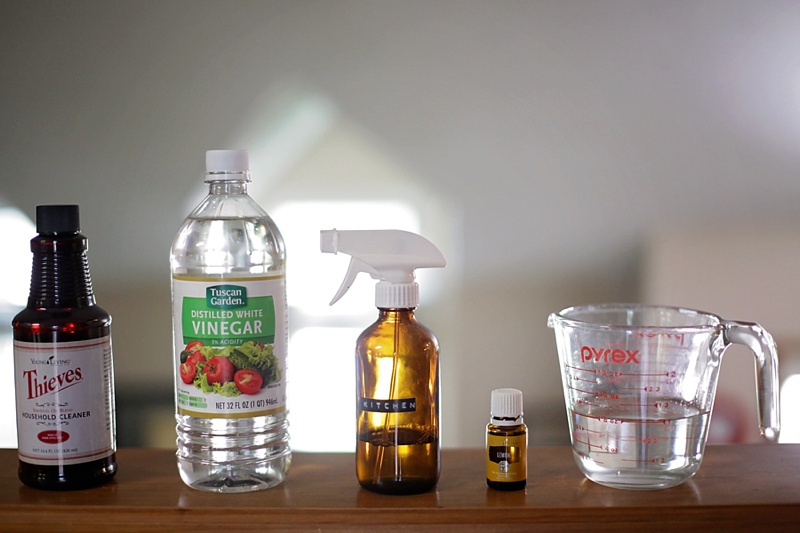 2. Detergent Pods – These bright, colorful pods look like candy or toys to little children, which causes a HUGE risk for parents. In fact, just this summer Consumer Reports decided to remove these pods from their list of recommended detergents because of their safety issues. If you do decide to continue using these pods, be sure to store them somewhere locked up and out of reach of small children.
3. Mount Your Furniture and TV's – One of the most common injuries for kids is when TV's or unmounted furniture falls on them. But there is an easy fix! You can get mounting kits online, at electronics stores, furniture stores or hardware stores for around $10-$15.
4. Watch the Candy! – The most frequent cause of choking for kids under 14 years old is from attempting to eat candy! Make sure you're not giving any hard candy or gum to kids 4 and under and pass that rule along to caregivers and grandparents. Yes, even if grandma insists on giving your little one a sucker…be strong, mama!
5. Sign up for Recall Alerts – This is one of the most simple ways you can ensure your child is as safe as possible. When you purchase a new piece of baby gear, make sure to send in the recall card that is included in the box, so you will be informed if there is a recall. You can also sign up for recall alerts online at recalls.gov.
Car Safety Tips
1. Know Your Car Seat Installation/Requirements – Make sure car seats are installed correctly and that you are using the right size car seat for your child's size. Get the seats inspected by installation experts (police and fire stations can do this) and make sure the straps are placed correctly on your child. Also, don't use bulky coats or blankets underneath the car seat straps! Instead, place a blanket over your child after they are buckled in or invest in a lightweight fleece that isn't bulky, but provides warmth.
2. Know Age Limitations – While actual laws vary by state, recommendations and guidelines should be observed nationwide. Children should be backward facing until 2 years old, regardless of their weight or height. Children 12 and under should always sit in the backseat, regardless of size, due to passenger side airbags being too powerful for young bodies.
3. Set Rules for Car Behavior – No screaming or yelling in the car, or distracting the driver. If it's unavoidable (a crying baby), pull over in to a parking lot or safe space until the car is quiet and you feel safe to start driving again.
4. Put Your Cell Phone Away – Keep your cell phone out of sight or turned off while you drive to avoid temptation. This also will carry over as your own kids learn from YOU how to behave while driving…and goes with my number five tip below…
5. Be a Good Example and Follow Your Own Rules – If you want your children to follow safe driving and riding guidelines, you need to do the same. You're setting the example for their future driving habits! Start now!
http://www.crazybananas.com/wp-content/uploads/2016/09/2016-09-13_0002.jpg
533
800
Megan
http://www.crazybananas.com/wp-content/uploads/2015/07/Crazy_Banans_Logo_WebsiteBanner.png
Megan
2016-09-14 06:10:58
2016-09-14 06:11:12
Daily Safety Tips for Parents : National Baby Safety Month