1. Yesterday I started painting our basement. It's been beige for far too long, and after spending a gajillion dollars on paint samples, I made myself choose between a grey-blue shade and a bright, tropical blue. Basically this versus this. We were going for a look like the picture below from Allison Wonderland (via This is Reverb):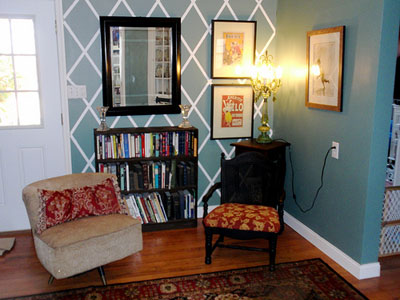 Let me tell you, it does not look that cute. It looks like a Smurf exploded in our basement. I was hoping when it dried I would like it more. I don't.
2. I woke up this morning to the entire freaking world covered in a blanket of snow. WTF, Kansas City weather stations, a warning would have been nice! I hate the cold. I'm moving to California.
3. Check out this fun hair tutorial I found on Hair Thursday. I normally use my straightener to curl my hair, but I always end up looking like a grown up Shirley Temple.

How To Curl Hair with a Flat Iron from Hair Thursday on Vimeo.
I covet her haircut, and am thinking of copying it, but for now, my hair has beachy waves and I'm pretending I'm laying in a chaise lounge listening to the ocean. Oh, and I'm drinking a pina colada…one that's more pina then colada, if you know what I'm saying.
Because I sure don't have a clue what I'm talking about.
4. I get to go to a grown up bar tonight and have sophisticated drinks with a friend/client. Har har, Kansas City, look out! It is the grand return of Megan Martini! I will be the one in the big orange boots with beachy waves in her hair. Breakdancing is a real possiblity.
Have a great weekend, everyone!
http://www.crazybananas.com/wp-content/uploads/2015/07/Crazy_Banans_Logo_WebsiteBanner.png
0
0
Megan
http://www.crazybananas.com/wp-content/uploads/2015/07/Crazy_Banans_Logo_WebsiteBanner.png
Megan
2009-01-16 09:30:42
2009-01-16 09:30:42
A Few Items to Get You Through the Weekend