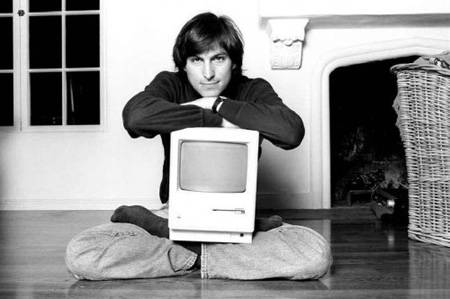 I, like a million others out there, it seems, was surprised by the emotional reaction I had to Steve Jobs' untimely passing yesterday. I was at the gym, and was putting on gear at the rock climbing wall when my phone buzzed with a call. I ignored the call, but jumped on Twitter, because my brain apparently can't function without knowing what all my tweeps are up to at any given moment, and I saw the news.
I cried.
At the rock wall at my gym, with a harness hanging off my butt.
After I took a few deep breaths, I decided instead of climbing my normal, easy route, I'd try a harder one that I'd never conquered. I wanted to feel my muscles strain, my heart beating harder as I clinged to my fake rock. The first two tries I made it halfway, then lost my grip and fell, the auto belay slowing me down as I reached the ground. But on the third try, I made it past the one area where I kept losing my footing, and then made it easily to the top.
I've done a lot of (totally obnoxious) soul searching in the past few weeks. Maybe the realization of turning 30 soon-ish means more than I thought it would, but I have done more new things in the last three weeks than in the last few years. I want to find my happy, you know?
I think that's why Steve Jobs' death hit me so hard. He lived his happy. He created a whole new world, changing the landscape so drastically, my kids will never know life without his devices at their fingertips. Lucy could work an iPod Touch before she could speak in full sentences, I send videos of Tate to far flung family members using iMovie on my iMac, when I had to trade my iPhone in for a Droid, Lucy cried. CRIED. I have worked on a Mac computer on and off since the second grade…and not a day goes by where I don't use something he invented. He created machines that took art and design and music to levels that were impossible to dream. Microsoft made computers for work. Apple made computers for life.
On Twitter, @Mom101 said "People are saying Steve Jobs was our generation's Edison. I kind of think he was our John Lennon." I responded, "I think that's why he was so great…he was both."
An artist and an inventor. An entrepreneur and a designer. A master marketer and a prolific engineer. Insane and enlightened.
His genius will be missed.
http://www.crazybananas.com/wp-content/uploads/2015/07/Crazy_Banans_Logo_WebsiteBanner.png
0
0
Megan
http://www.crazybananas.com/wp-content/uploads/2015/07/Crazy_Banans_Logo_WebsiteBanner.png
Megan
2011-10-06 11:07:45
2011-10-06 11:08:18
Here's to the Crazy Ones