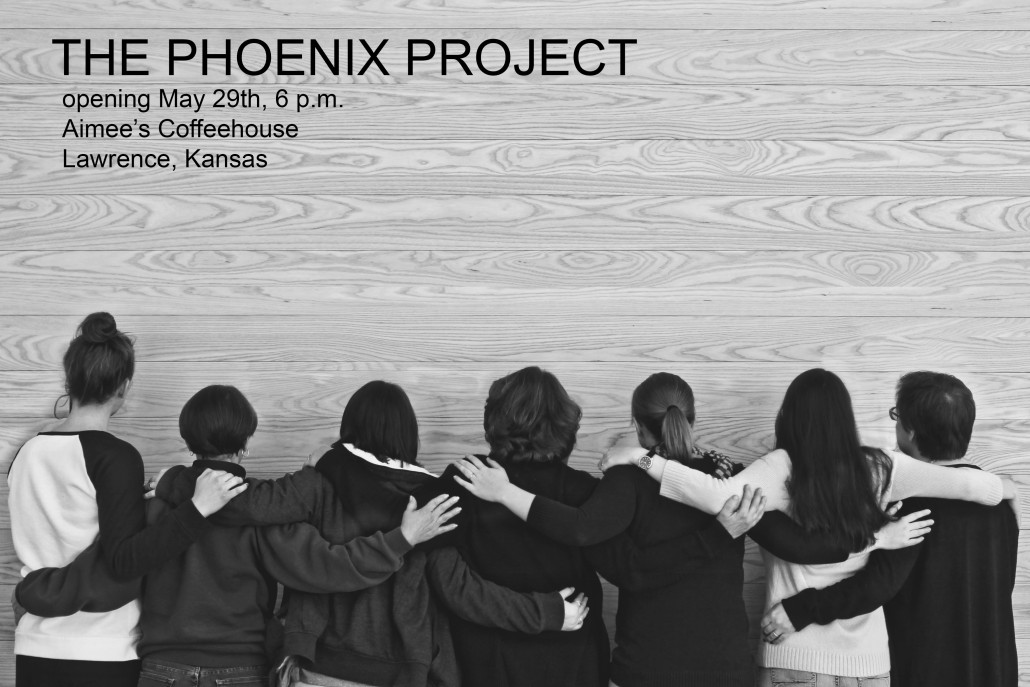 I'm so excited (thrilled, terrified, proud) to share that the Phoenix Project: Healing Through Art is opening TONIGHT! The Willow Domestic Violence Center's Phoenix Project is both a collection of narratives and interpretive art intended to connect the community on a personal level to decrease violence and promote healing through transformation. The show is on display now through the end of June at Aimee's Coffeehouse, 1025 Massachusetts. The kickoff reception is during Final Friday's on May 29th from 6 – 10 p.m., and will feature my images of domestic violence survivors.
I could not be more honored and humbled to be a part of this project. The Willow Center is near and dear to my heart, as I worked there in college as an advocate for women and children who were dealing with domestic violence in their lives. Three years ago, I created a photo series called "The Motherhood Project," where I depicted mothers from all backgrounds along with their stories for the website Go Mighty. This project was then sponsored by Olay, who made a donation in my name to the Willow Center. In the years since, I have stayed in touch with the team at the Willow, and when they told me about their idea for the Phoenix Project, I jumped at the chance to be involved.
This is my very first gallery show…something that has been a dream of mine for most of my photography career. For this first show to be in the name of such a good cause is the icing on the cake. I'm so grateful and overwhelmed with everyone who has supported me and helped me arrive at this place. Thank you to to the mothers who allowed me to photograph them for the original "Motherhood Project." Thank you to Maggie Mason, the Go Mighty Team and Olay for helping me get started. Thank you to the team at the Willow for all you do for victims and survivors. Thank you to the South Mass Street Art Guild for co-sponsoring this event. Thank you to the incredible women who allowed me to photograph them and tell their stories for the Phoenix Project. Thank you to my husband for listening to me talk about this for two years and always believing it would happen, even when I wasn't so sure. Thank you to my kids for making me laugh every day.
And thank you to you…for reading, supporting, lifting me up, and being all-around awesome.
https://www.crazybananas.com/wp-content/uploads/2015/05/Phoenix-Project-2015.jpg
2744
4116
Megan
http://www.crazybananas.com/wp-content/uploads/2015/07/Crazy_Banans_Logo_WebsiteBanner.png
Megan
2015-05-29 09:48:10
2017-02-22 15:58:12
Opening Tonight! The Phoenix Project in Lawrence, Kansas