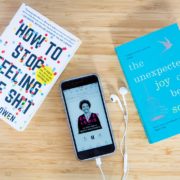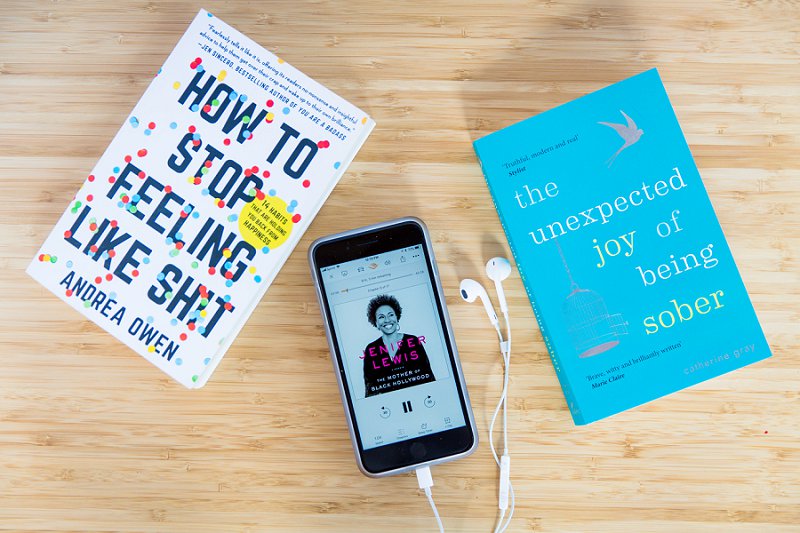 I kicked off this year with a few great, new books on my nightstand (and in my earbuds) that I wanted to share! Last year, one of my big goals was to read more often, and I was so happy to have kept it up all year. This year, I'm hoping to share a few of my favorites here on the blog, and do a few quick reviews over on social media (Instagram stories, maybe?) as well. Today I wanted to share about the three books I inhaled in January.
The first is called The Unexpected Joy of Being Sober and it was written by my friend Catherine Gray. Now, can I just tell you a little something about being in a community of women in recovery? One of the best parts of the entire experience is watching people you have seen crawl out from the bottom of despair change the world with their talent and grace. Getting to be a very small part of Catherine's journey is such a gift, and viewing her rise has been incredible! This memoir shares Catherine's struggle with alcohol, but even better is learning about the incredible life she found was waiting for her in sobriety. So many people believe being sober means you become a boring lump with no life, and that has been far from the truth for me! Catherine shows her readers what an exciting, fun, JOYFUL life is waiting for them in sobriety. She also weaves in some amazing science about alcohol (do you know it's not good for you AT ALL…despite what that report you saw on the benefits of wine on your heart heath says?) and gently builds the argument that being alcohol-free is not a punishment, but an awesome way to live! You can get The Unexpected Joy of Being Sober here.
The second book I read this month is by another online recovery friend (and podcast host) Andrea Owen. Andrea is an author and life coach who helps women live the kick ass lives they deserve. She works with a ton of high-achieving women to assist them in finding balance, joy and letting go of shitty behaviors. Hence the title of her newest book, How to Stop Feeling Like Shit! I was a guest on Andrea's podcast last year, and I love her style of not taking any crap while being incredibly empathetic and understanding. This book lays out several behaviors many women cling to (people pleasing, saying yes too often, saying no too often…) and helps the reader find ways to battle these issues in their own lives. This is a great read for women who are "doing it all," but still find themselves feeling shitty far too often (raises hand). You can get How to Stop Feeling Like Shit here.
The last book on my list for January was actually an audiobook, and OMG GET THIS AUDIOBOOK! I have been a fan of Jenifer Lewis for years, but listening to her tell the story of her own life in her book, The Mother of Black Hollywood, was a total joy. She shares intimate details of her life growing up as an abused child in Missouri, her early days on Broadway in the 1970s and 1980s, the AIDS crisis that rocked her world, her battle with bipolar and anxiety and her time as a black actress in Hollywood. I'm sure this is a great read on it's own, but hearing Ms. Lewis' incredible voice telling her own story was well worth the audiobook. She sings, tells jokes, laughs…the whole time I felt like I was listening to her in person. I highly recommend this for a long drive in the car or to listen to when you're working out…just beware if you're at the gym you'll probably end up snort-laughing on the elliptical. You can buy the audiobook for The Mother of Black Hollywood here or the print version here. And if you want a Jenifer Lewis fix, may I suggest adding Black-ish to your TV rotation. She plays Grandma Ruby and it is the BEST!
http://www.crazybananas.com/wp-content/uploads/2018/01/2018-01-31_0001.jpg
533
800
Megan
http://www.crazybananas.com/wp-content/uploads/2015/07/Crazy_Banans_Logo_WebsiteBanner.png
Megan
2018-02-06 15:12:12
2018-02-06 15:12:12
Currently Reading : Unexpected Joy, Not Feeling Like Shit and the Mother of Black Hollywood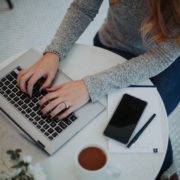 This is the final piece of my series on 2018 intentions…go here to see part one on social media and part two on friendship.
As 2017 came to a close a couple of weeks ago, I decided to re-evaluate several areas of my life, and one that stuck out was my consumerism in the past year. At my core, I'm not a big shopper. I can't stand buying clothes and I have a lot of anxiety about spending money, especially on myself. But in the last year, due to varied circumstances, I found myself spending more on clothing than in past years. Maybe it was a form of numbing…spending money on "stuff" to make myself feel better, to treat myself or to fill some sort of hole inside me? Or maybe I just needed to replenish my closet after a few big purges and life/career changes? Regardless of the reason, when I looked back on my spending habits last year, I was a bit surprised at how much I spent on clothes for myself. An even bigger surprise was looking around my closet and still feeling like I had nothing to wear…how was that possible?!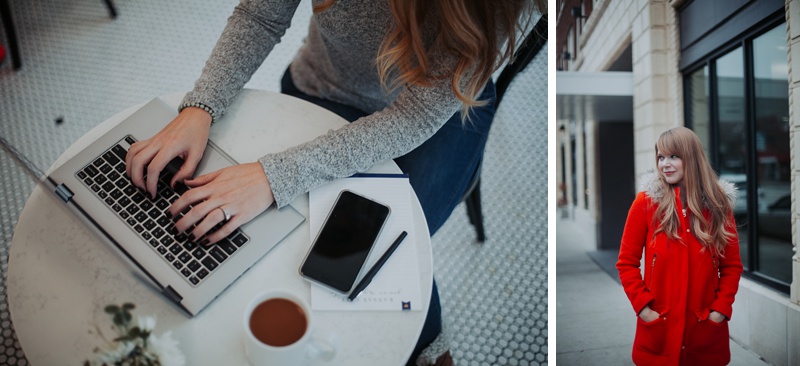 When it comes to clothes and apparel, less is definitely more for me. When I have too many choices, I become paralyzed and can't make a decision. Plus, I found I was purchasing the same items over and over again! It was just silly! I was shopping for sales instead of shopping for pieces (that dress is 50% off, I have to have it!) and that's not a habit I want to continue.
So this year I've made a commitment to myself to not purchase any new clothing, excepting specialty items like underwear or socks. I'm actually pretty excited about the whole thing! I think it will be a fun challenge to make due with what I have. Along with the cost savings to myself and my family, I have also been doing research on the global cost of "cheap" clothing (I have this book on reserve at the library…have you read it?) and how it's affecting our communities and our planet. As someone who spends a good deal of time working with an organization who's main goal is to help the poorest people in the world, my blatant consumerism of cheap clothing, most of which is made on the backs of these poor communities, just doesn't ring true. It's been fun to see how I can make this work, as more and more people seem to be trying this sort of challenge. I'm excited to start perusing thrift and vintage stores for used garments and have even pondered learning to knit or sew this year. I'm not very crafty by nature, so this would be a pretty massive challenge!
What about you? Have you ever thought about your purchasing habits when it comes to clothing? Would you consider cutting out buying anything new for a year?
http://www.crazybananas.com/wp-content/uploads/2018/01/2018-01-29_0001.jpg
533
800
Megan
http://www.crazybananas.com/wp-content/uploads/2015/07/Crazy_Banans_Logo_WebsiteBanner.png
Megan
2018-01-29 13:07:31
2018-01-29 13:07:31
Welcome 2018 Part 3 : Consuming vs Creating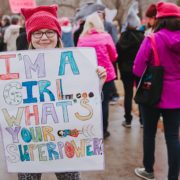 One year ago I hopped on a giant bus full of strangers and drove to Washington DC to participate in the Women's March on Washington…it was an incredible experience that I will never, ever forget. I am so glad I was able to be there and it was incredibly cathartic to be around so many women (and a few men) who cared about many of the same things I did. In 2017, I'm grateful I was able to do more than just march (more on that here and here and here), but I was still excited when I heard there were going to be a few local opportunities to march again in 2018. And this time, I got to bring my 11-year-old daughter with me.

One of the new struggles I've had in the past year is balancing being an activist and a mother…on one hand, I've had to be away from my kids more than before while working on issues, attending meetings or summits and participating in the political process. But on the other hand, I think it's incredibly important for our kids to see us being active and fighting for what we believe is right…especially our daughters.

I want my daughter to grow up not only being told she "can do anything," but surrounded by women who are really doing it. I want her to look at the people I surround myself with and learn how to surround herself with good people too. People who don't only care about themselves, but will give up hours, days and weeks to help others. So I was extremely grateful to be able to travel to the nearby Women's March in Lawrence, Kansas with my cohorts from Education First Shawnee Mission and their kids.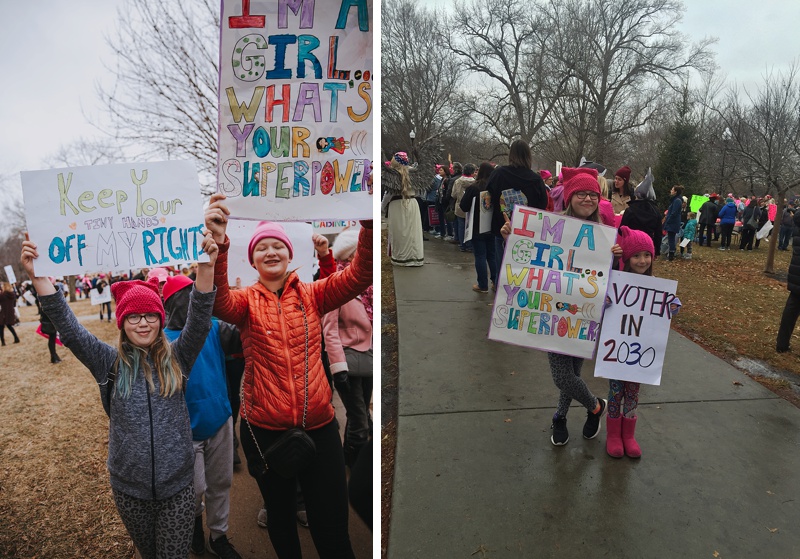 We listened to speakers from many different groups, from leaders at Haskell Indian Nations University to the local leader of the NAACP and many, many more. Then we marched down Massachusetts Street chanting "Show me what democracy looks like…THIS is what democracy looks like!" The significance of this moment was not lost on me as we marched down a street that held good and horrible memories for me as a female college student (Mass Street is where many of the local bars are located, and I was assaulted and harassed there by drunk college men on more than one occasion). I was surrounded by strong, smart women (and some men!) who were there to support each other.

My favorite part of the day was watching my daughter and another Education First Shawnee Mission mom's daughter starting chants and their excitement when the chants caught on with the crowd. Their faces would light up and they would hi-five each other. "We did it!"
Yes, girls. You certainly did.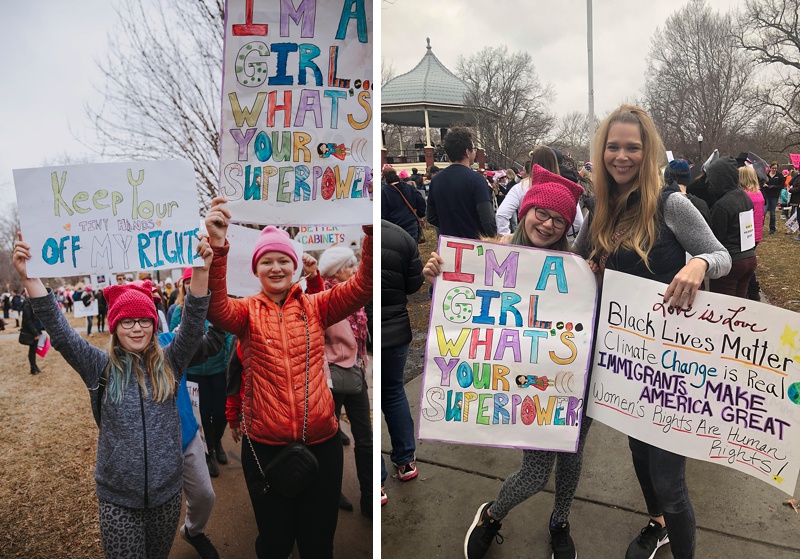 http://www.crazybananas.com/wp-content/uploads/2018/01/2018-01-22_0001.jpg
590
800
Megan
http://www.crazybananas.com/wp-content/uploads/2015/07/Crazy_Banans_Logo_WebsiteBanner.png
Megan
2018-01-22 19:20:05
2018-01-22 19:20:05
What's Your Superpower? Women's March 2018